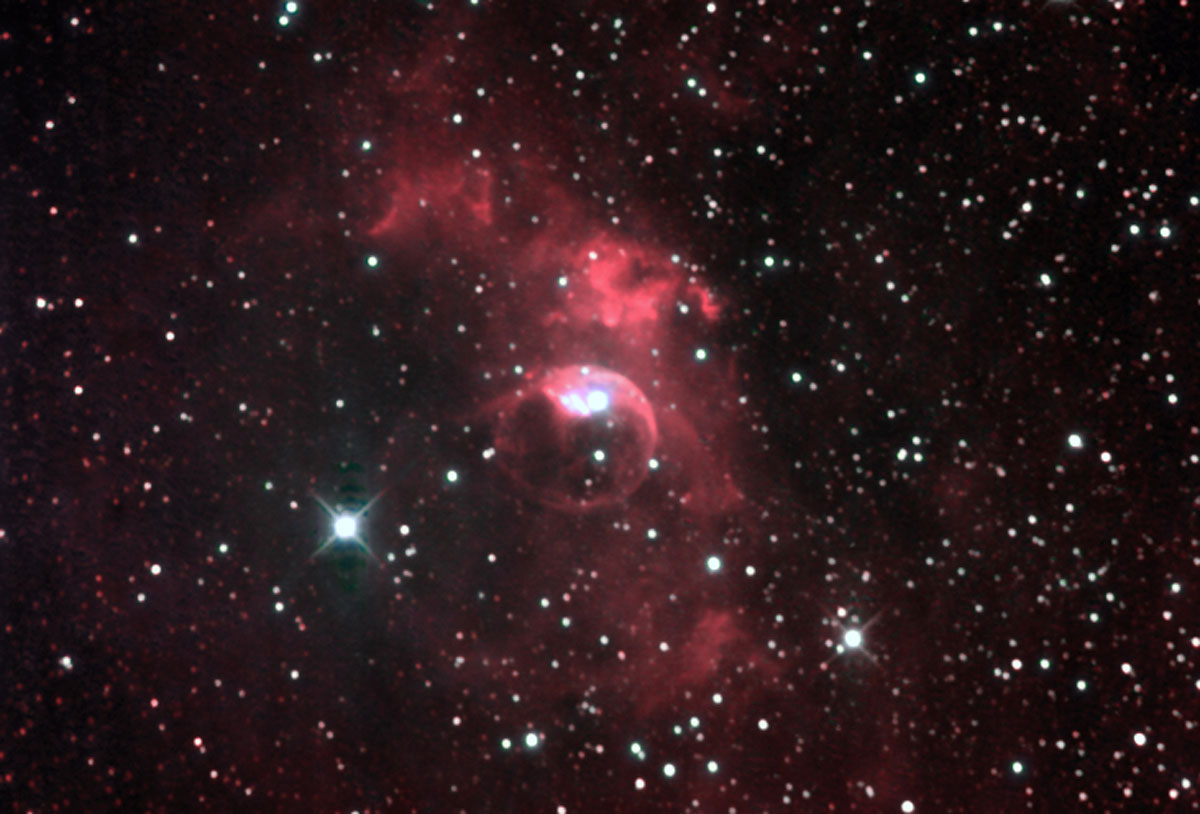 Diese Gas-Blase ist durch den Sternenwind und den Partikel-Ausstoß einer Sonne entstanden, der etwa 40x größer ist, als unsere Sonne. Der Stern steckt innerhalb dieser Blase. Deren Oberfläche ist nicht glatt wie eine Seifenblase, sondern durch die unterschiedliche Dichte des Gases geriffelt. Die bereits 6 Lichtjahre große Blase dehnt sich mit einer Geschwindigkeit von 7 Millionen km/h aus. NGC 7635 liegt im Sternbild Cassiopeia.
This gas-bubble has been caused by the stellar wind of a sun (star) which is about 40 x bigger than our sun. The star is inside of the bubble. The bubbles survice is not smoth like a soap-bubble. It is rippled by the different dense of the gas. This bubble is still extending by the speed of 7 million km/h and measures today about 6 light years.
Bilddaten:

Objektdaten:

Luminanz:

2x2 ha 10x 180 sec
Name:
Bubble Nebula / NGC 7635

Luminance:

Name:

RGB:
2x2 20x /29x/40x 180 sec

RGB:

Optik:
SC 10" f/6,5 Meade
Rekt.:
23 h 20,7'

Optic:

Rect.:

Montierung:
Paramount GT 1100 S
Dekl.:
N 61° 12'

Mount:

Decl.:

Kamera:
SBIG ST-8XE
Typ:
Reflektions Nebel / reflection neb

Camera:

Typ:

Nachführung:
guide chip
Sternbild:
Cas.

Guiding:

Constellation:

Filter:
Entfernung:
11.000 Lj

Filter:

Distance:

Ort:
Star-Lodge
Winkeldurchmesser:
15 x 8

Location:

arc.:

Datum:
24. 06. 2006
Größe:
6 Lj.

Date:

Size:

Bearbeitung:

CCDOPS / Maxim / PScs

Processing:
No reproduction of these images and pages are permitted without written approval.