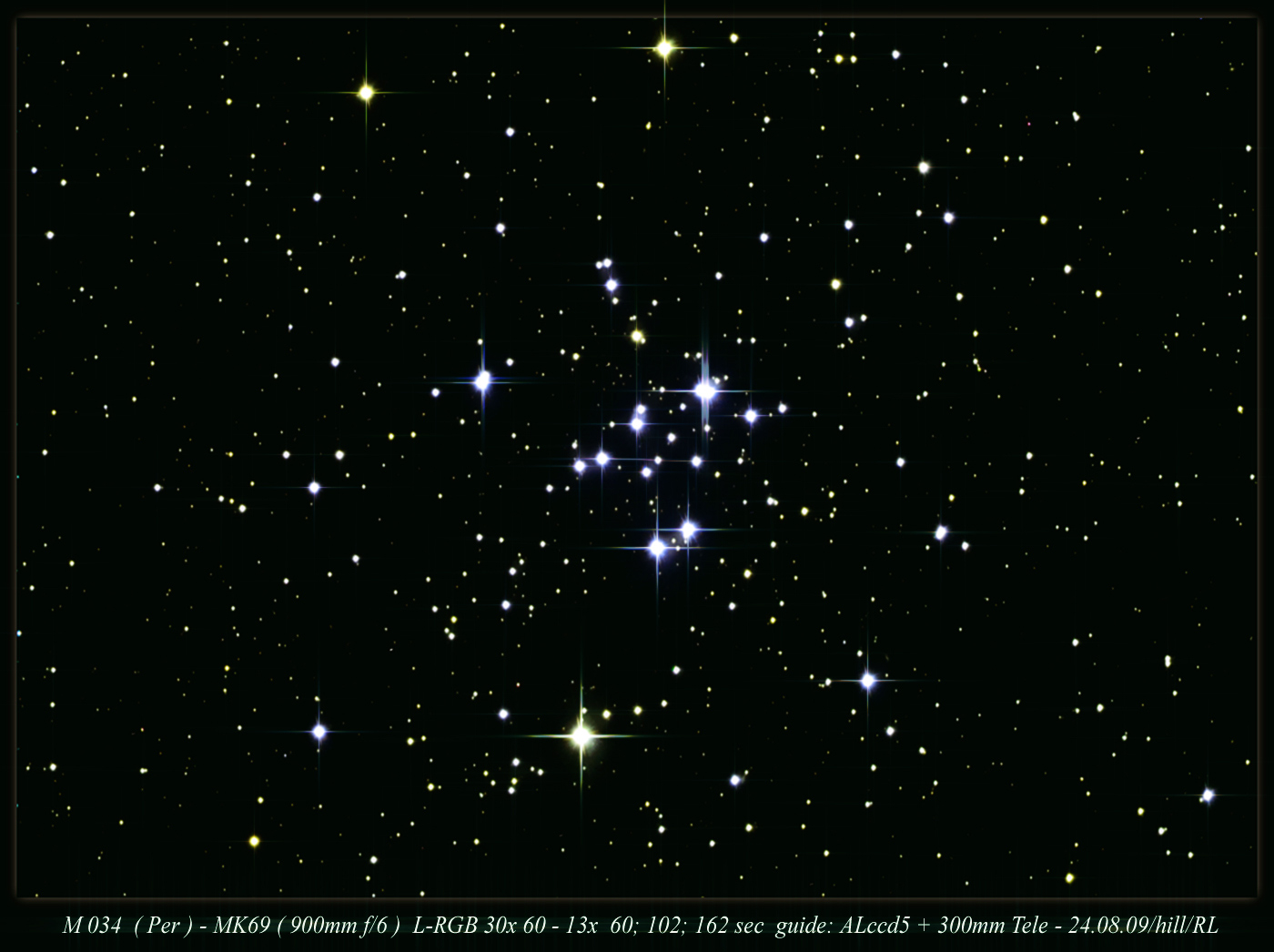 Dieses vierunddreißigste Objekt im Katalog von Messier , von denen viele einen eigenen Namen haben, besteht aus ca. hundert Sternen, von denen etwa 80 als gesichert gelten. Der hellste Stern hat eine Helligkeit von 7,4 mag. Der Haufen ist leicht zu finden, da er nördlich einer Linie von Algol (Perseus) zu gamma Andromedae liegt. Seine Winkel-Größe von 35' entspricht einem Durchmesser von ca. 14 Lichtjahren.
=====================
This 34th object in the catalog of Messier - some of them have their own name - is composed by about 100 star, 80 of them are confirmed. The brightest star is of magnitude 7.4. The cluster is easily to be found as it lies just north of a line from Algol (Per) to gamma Andromedae. The angular diameter corresponds to 14 light years in reality.
Bilddaten:

Objektdaten:

Luminanz:

30x 60 sec 1x1
Name:
M - 034 / NGC 1039

Luminance:

Name:

RGB:
rgb 13x / 60; 102; 162 sec 2x2

RGB:

Optik:
MK 69 / f/6
Rekt.:
02 h 42m 05 s

Optic:

Rect.:

Montierung:
Paramount GT 1100 S
Dekl.:
+ 42° 45'

Mount:

Decl.:

Kamera:
SBIG ST-8XE
Typ:
OCl

Camera:

Typ:

Nachführung:
ALccd5 + 300mm Tele
Sternbild:
Per

Guiding:

Constellation:

Filter:
IR - RGB Astronomik
Entfernung:
1.400 Lj

Filter:

Distance:

Ort:
Star-Hill
Winkeldurchmesser:
35 '

Location:

arc.:

Datum:
25.08. 2009
Größe:

Date:

Size:

Bearbeitung:

CCDstack / PS cs3

Processing:
No reproduction of these images and pages are permitted without written approval.