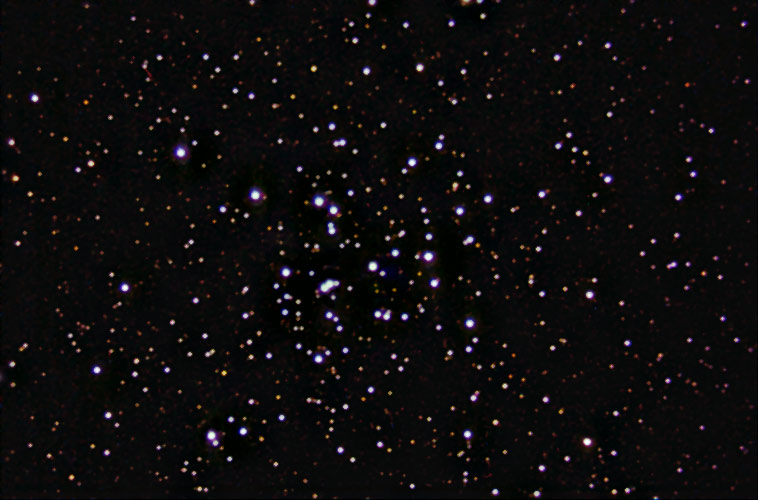 Dieser offene Sternhaufen im Sternbild Fuhrmann, besteht aus ca. 60 Sternen und ist etwa 4.100 Lj von uns entfernt. Von den beiden benachbarten oH M-37 und M-38 ist er der Hellste. Im Gegensatz zu seinen beiden Nachbarn enthält er keinen roten Riesen, was auch sein alter von nur ca. 25 Millionen Jahren bestätigt.
This open cluster in constellation Auriga is composed of about 60 stars and its distance to us is about 4.100 light years. Compared to the two neighboring clusters M-037 and M-038 it is the brighdest but does not have a red gigant like they have. This confirms also his young age of only 25 million years.
Bilddaten:

Objektdaten:

Luminanz:

Name:
M - 109 / NGC 3992

Luminance:

Name:

RGB:

RGB:

Optik:
SC 12" / 10
Rekt.:
11h 58m

Optic:

Rect.:

Montierung:
Gabel LX200
Dekl.:
53° 32'

Mount:

Decl.:

Kamera:
SBIG ST-8XE
Typ:
Gx Sb4

Camera:

Typ:

Nachführung:
Sternbild:
UMa

Guiding:

Constellation:

Filter:
Entfernung:
40 M Lj

Filter:

Distance:

Ort:
Winkeldurchmesser:
6'

Location:

arc.:

Datum:
Größe:

Date:

Size:

Bearbeitung:

Processing:
No reproduction of these images and pages are permitted without written approval.