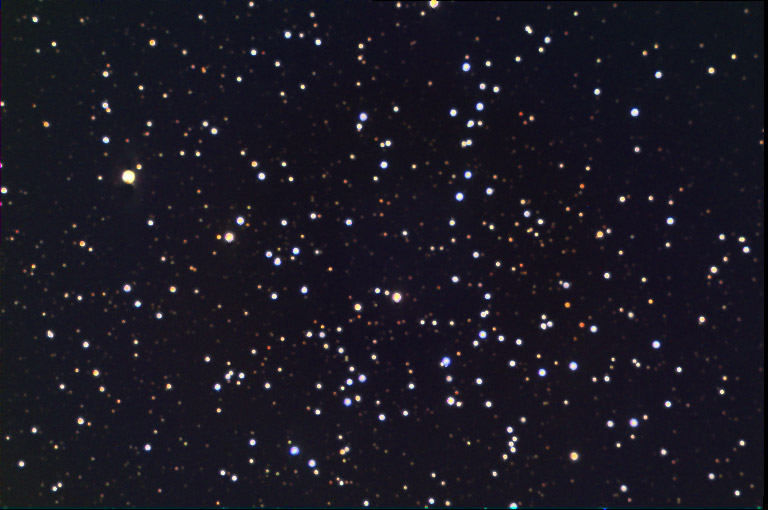 Dieser offene Sternhaufen im Sternbild Fuhrmann, enthält einen gelben Riesen, dessen absolute Helligkeit von -1,5 mag einer Leuchtkraft von 900 Sonnenmassen entspricht. Laut Sky Catalog 2000 beträgt das Alter des Haufens ca. 2,2 Billionen Jahre.
This open cluster is situated in the constellation Auriga. There is a yellow giant star inside the cluster with a brightness of -1.5 mag which is about 900 times of our sun. According to the sky-catalog 2000 the age of the cluster is 2.3 billion years.
Bilddaten:

Objektdaten:

Luminanz:

10 min / (2x5min sub) / 2x2
Name:
M - 038 / NGC 1912

Luminance:

Name:

RGB:
RGB (8x5/3x5/2x5min sub) 2x2

RGB:

Optik:
SC 10" / 10
Rekt.:
05 h 28m 42.4 s

Optic:

Rect.:

Montierung:
Paramount GT 1100 S
Dekl.:
+ 35° 51' 17"

Mount:

Decl.:

Kamera:
SBIG ST-8XE
Typ:
Open Cluster

Camera:

Typ:

Nachführung:
Guide Chip / 0.6 s
Sternbild:
Aur.

Guiding:

Constellation:

Filter:
IR - RGB Astronomik
Entfernung:
4 200 Lj

Filter:

Distance:

Ort:
Star-Lodge
Winkeldurchmesser:
3.23 '

Location:

arc.:

Datum:
13. Feb. 2006
Größe:

Date:

Size:

Bearbeitung:

OPS / CCDSoft / PS cs

Helligkeit:

7.4 mag

Processing:

Brightness:
No reproduction of these images and pages are permitted without written approval.