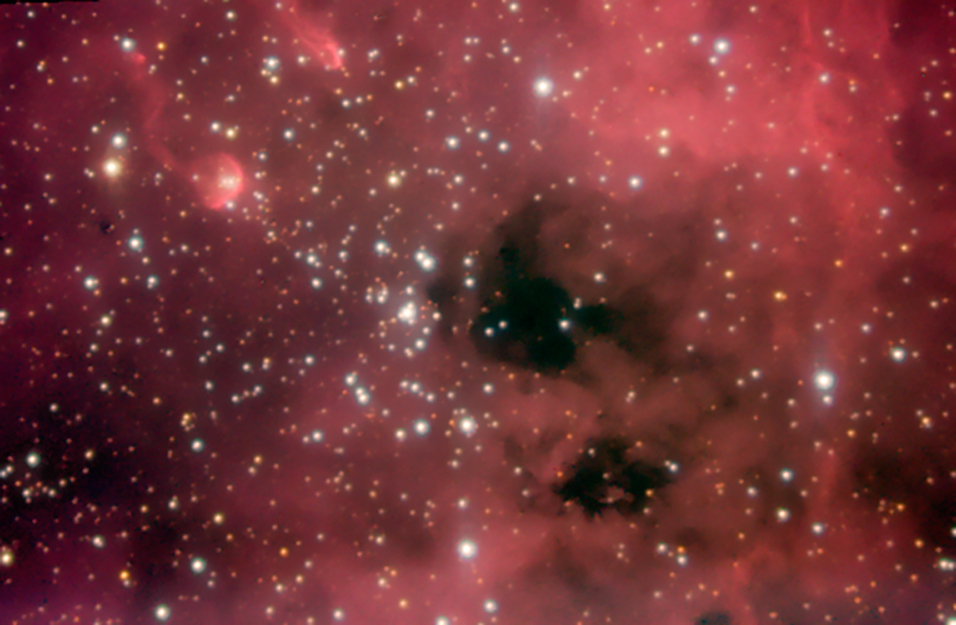 John Herschel entdeckte 1827 diesen offenen heißen Sternhaufen, eingebettet in dem Emissionsnebel IC 410. Die Strahlung dieser heißen Sterne schiebt das Gas des Nebels weg und bildet die dunkle Höhle. Die "Qualquappen" (Tadpols) sind Gebiete dichteren, kühleren Gases. Die Strahlung blässt auch hier das Nebelmaterial in einer schwanzähnlichen Fahne - etwa 10 LJ lang - in den Raum.
John Herschel has in the year 1827 discovered this hot open cluster, surounded by the emission nebula IC 410 . The radiation of this hot stars pushes the gas away and creates the darker caves. The "tadpoles" are regions of denser, cooler gas. The radiation streams the matter away creating this tails about 10ly long.
Bilddaten:

Objektdaten:

Luminanz:

ha 13x 600 sec 2x2
Name:
N - 1893 / IC 410 / Tadpol

Luminance:

Name:

RGB:
rgb 7x / 3x / 3x 600 sec 2x2

RGB:

Optik:
SC 10" / 6,3
Rekt.:
05 h 22m 44.1 s

Optic:

Rect.:

Montierung:
Paramount GT 1100 S
Dekl.:
+ 33° 24' 42"

Mount:

Decl.:

Kamera:
SBIG ST-8XE
Typ:
OCl

Camera:

Typ:

Nachführung:
Guide Chip
Sternbild:
Aur

Guiding:

Constellation:

Filter:
IR - Astronomik
Entfernung:
Lj

Filter:

Distance:

Ort:
Star-Lodge
Winkeldurchmesser:
'

Location:

arc.:

Datum:
29.11. 2006
Größe:

Date:

Size:

Bearbeitung:

OPS / Sigma / CCDSoft / PS cs

Processing:
No reproduction of these images and pages are permitted without written approval.